PIZZA-FRIENDLY WINEs...
A wine to accompany pizza should have the right balance of acidity, tannin and fruit flavors to complement a pizza's individual style and complexity. Traditional wisdom posits that since pizza is casual food usually consumed at informal gatherings, it should be accompanied by uncomplicated, inexpensive wines. While pizza has a peasant pedigree it is by and large universally enjoyed today and can be found at the tops of menus of some of the country's best restaurants. And Queen Margherita of Savoy certainly gave a regal boost to the humble pizza's status after sampling it in Naples in 1889.
There's really no reason to limit your wine choices when serving pizza to only inexpensive, insipid wines. The simple elegance of a well-made, traditional pizza can complement the finest wines and some of the best pizza-wine matches I've experienced have included high-end wines. The key is to make sure that the wines are not too powerful, tannic or oaky.

Since pizza is the quintessential Italian comfort food, an Italian wine would be a natural choice to accompany this most Italian of all foods.
Allegrini, Valpolicella 2007
This lovely wine is from one of the Veneto's oldest and most highly-regarded estates. Lean to medium-bodied, soft and round with muted tannins and a touch of spice, it is just the wine to go with pizza alla romana (tomatoes, basil, anchovies, capers and mozzarella).
San Pellegrino Limonata & Aranciata
Joy of joys! San Pellegrino Limonata and Aranciata,
we are talking about a flavored mineral water... These tasty beverages go perfectly with pizza. San Pellegrino's Limonata and Aranciata are not quite as thick as regular cola and, as a bonus, the bright fruit flavors help perk up the taste buds, which allows those pizza flavors to keep on truckin'...
Joie de
joies
!
San
Pellegrino
limonade
et
Aranciata
,
nous

parlons d'une

eau

minérale

aromatisée

...

Ces

boissons

savoureuses

s'accordent parfaitement

avec

la pizza

.

Limonade

San Pellegrino

et

Aranciata

ne sont pas aussi

épais

que le cola

ordinaire

et

,

en prime

,

les

saveurs

de fruits

lumineux

aide à

revigorer

les papilles gustatives

,

ce qui

permet de garder les

bonnes

saveurs

à la

pizza

...
Brindo per noi...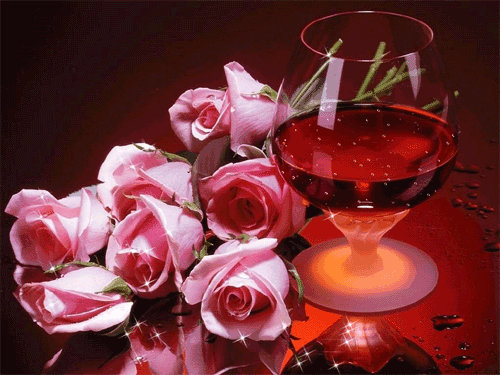 Fiori sulla tavola e una copa per me...
voglio brindare a noi...
voglio fare un brindisi per te,
seduta qui vicino al mio camino,
il fuoco è acceso e ti penso...
con me ho ancora le tue rose,
la tua dolcezza è ancora qui,
nella mente suona ancora la tua voce
e nel cuore quella musica d'amore
che hai per me,
fatico a capire se questo tepore...
viene dal camino o sei te,
ti guardo in silenzio mentre dormi,
sul tuo viso un sorriso sereno
che parla di me,
pian piano accarezzo i tuoi capelli
e lascio il mio sorriso su di te...
mi inebrio del tuo profumo,
mi avvicino e rimango insieme a te...
ti sposti lentamente e mi abbracci...
mi addormento cosi,
ed ora che è mattino e mi hai baciata...
in questo risveglio d'amore ci siam persi l'alba,
non importa perchè adesso sei tu l'artista
che i colori dipinge su me..stringimi ancora...
e brinda per noi...
Dolce notte a tutti...(Notte anche a te Amore)