Gusti...E Sapori...
della Gastronomia Italiana...
Baffetto de Roma,
est un restaurant gastronomique réputée
pour la qualité et le raffinement de ses produits,
la sélection de ses vins italiens
et d'importation privée
ainsi que pour son service chaleureux et attentionné.
Lobster Tagliatelle...
A simple,
elegant combination of sweet,
perfectly poached lobster meat,
on a bed of vegetables...
Pennette Rigate with Veal Ragù Sauce...
Adding ground veal to a classic red sauce turns a lean pasta dish into a hearty meal.
Ingredients:

1 package pennette rigate
1can plum tomatoes, including liquid, diced
1can tomato sauce
¼ cup white wine
2 teaspoons extra virgin olive oil
2 garlic cloves, minced
½ pound lean ground veal
½ cup chopped fresh basil
A pinch of coarse salt
Freshly ground black pepper
In a saucepan, heat tomatoes, tomato sauce and wine; allow to simmer while cooking the veal.

In a nonstick skillet, heat olive oil; add garlic and ground veal. Sauté until veal is cooked. Drain excess fat; pat veal with paper towels to remove any remaining fat. Add veal to sauce. Season with basil, salt and pepper.
with veal, prosciutto, peas, onions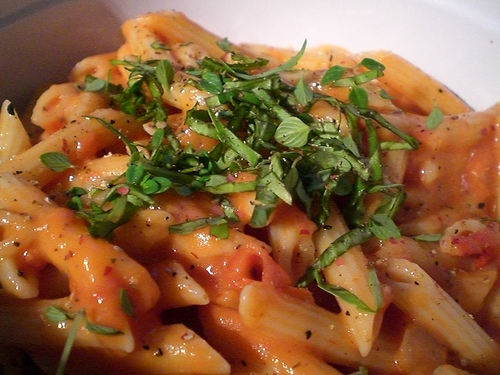 Penne alla Romanoff...
Garnished with freshly grated Parmiggiano-Reggiano cheese and garden basil.
Served with garlic bread this penne with Vodka sauce
Spaghettini alla Bolognese...
d' ail, 500 gr de viande hachée de bœuf, 1 boîte de tomates pelées, laurier, thym, sel, poivre, 500 gr de spaghettis, huile d'olive extra vierge, parmesan ou romano.
Faire revenir les oignons émincés dans un peu d' huile d'olive extra vierge.
Ajouter la viande hachée
- Rajouter l' ail, le thym et le laurier, la sauce tomate
- Laisser mijoter une demi-heure à feu moyen. Saler et poivrer
- Pendant ce temps faire cuire les pâtes « al dente »
- Servir les pâtes puis la sauce pour finir avec le fromage de votre choix.
DELIZIOSO...!