Grana Padano...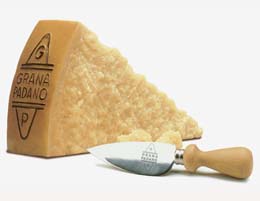 This cheese is fairly versatile and is ideally used for grating over pasta, salads or as a table cheese with nuts or grapes. It is also a great melting cheese for cooking. If Grana Padano cheese is being paired with wine it is suggested that a white wine be accompanied for the younger cheeses or a red wine for the more aged cheeses.
The wonderful thing about Grana Padano cheese is that the taste lingers well without being overpowering. It has a lightly sweet, nutty flavor that be shaved over a salad or eaten in thick slices.
In addition to its traditional use, grated over pasta or other dishes, the Grana Padano is used in the preparation of various recipes. The best way to appreciate its characteristic flavor and structure however, is to serve it alone, possibly with just a drop of Aceto Balsamico Tradizionale di Modena (Traditional Balsamic Vinegar from Modena) aged for at least 12 years, and a chunk of good, freshly baked bread. It is excellent served with diverse types of fruits as well.
Image credit -
http://www.bioagro.it
Le « Grana » est exclusivement « Padano »
Le terme "GRANA" a été créé pour indiquer un fromage caractérisé par la structure granuleuse de sa pâte et produit dans la vallée du Pô depuis le XIIème siècle.
La diffusion progressive de ce fromage très apprécié a entraîné la distinction de plusieurs variétés de GRANA (Grana Lodigiano, Emiliano, Lombardo, Veneto, etc.), qui ont ensuite été unifiées sous le terme « PADANO » quand la reconnaissance de l'appellation d'origine GRANA PADANO a été demandée suite à l'institution des appellations d'origine des fromages, loi italienne n° 125 du 10 avril 1954.
Risotto aux légumes et au Grana Padano...
Ingrédients :
230 g de brocolis (une tête de dimension moyenne)
1 tasse de fèves blanchies ou de haricots surgelés
3 cuillères d'huile d'olive extra vierge
1/2 tasse d'oignon frais émincé
1 cuillerée de poireau émincé
2 tasses et 1/2 de riz Arborio
1/2 tasse de vin blanc sec
6 tasses et 1/2 de bouillon de poulet chaud
1/2 petite cuillère de sel ou la quantité nécessaire
2 cuillères de beurre (non salé) coupé en morceaux
1/2 tasse de Grana Padano fraîchement râpé
Poivre noir fraîchement moulu
Grating Cheese: It's Great To Grate...

!
Préparation :
Détachez les bouquets de brocolis des tiges et coupez les en petits morceaux (pour obtenir environ 1 tasse et 1/4). Pelez les tiges des brocolis et coupez-les en tronçons de 5 cm. Faites cuire les bouquets à la vapeur jusqu'à ce qu'ils aient pris une couleur vert foncé (environ 1 minute). Réservez. Faites cuire les tiges à la vapeur jusqu'à ce qu'elles deviennent très tendres (environ 4 minutes).

Conservez le liquide de cuisson. Broyez les tiges dans un robot de cuisine afin d'obtenir une crème onctueuse en
ajoutant un peu de liquide de cuisson si nécessaire. Versez la crème dans un bol. Réservez les têtes et la crème.
Si vous utilisez des haricots de Lima, faites-les cuire 2 min. dans de l'eau bouillante salée. Égouttez soigneusement et réservez (les fèves blanchies sont déjà prêtes à l'emploi).
Dans une petite casserole, faites chauffer l'huile d'olive à feu moyen. Ajoutez l'oignon et le poireau et faites revenir jusqu'à ce qu'ils soient transparents en mélangeant souvent (environ 4 minutes).
Ajoutez le riz et remuez pour l'imprégner d'huile. Faites rissoler le riz jusqu'à ce que les extrémités des grains deviennent transparents (1 à 2 minutes).
Versez le vin et remuez jusqu'à complète évaporation. Ajoutez 1/2 tasse de bouillon chaud et salez. Laissez cuire sans cesser de remuer jusqu'à ce que tout le bouillon soit absorbé. Continuez à incorporer le bouillon chaud en petites quantités (environ une demi-tasse, la quantité nécessaire pour mouiller complètement le riz) et laissez cuire jusqu'à l'absorption de tous les ingrédients ajoutés. Environ 12 minutes après le premier ajout de bouillon, incorporez la crème de brocolis et les fèves ou les haricots en mélangeant bien puis, 3 minutes après, les bouquets de brocolis. Mélangez continuellement en baissant le feu et en incorporant le bouillon jusqu'à ce que la préparation prenne une consistance pâteuse, le riz devant être cuit «al dente». Comptez environ 18 minutes de cuisson à partir du premier ajout de bouillon.
Retirez la casserole du feu. Ajoutez le beurre et mélangez jusqu'à ce qu'il soit complètement fondu et incorporez le Grana Padano râpé. Salez et poivrez. Servez immédiatement dans des assiettes creuses préchauffées.
Balsamic Vinegar of Modena...
You're probably very familiar with the exquisite taste of Balsamic Vinegar, the staple vinegar for luscious Italian dressings, vinaigrettes, meat marinades and more. I know that in my own personal cooking, Balsamic Vinegar is a commonly used ingredient; everything from silky sauces to pork tenderloin or simple salad dressings – and more. I always seem to use the stuff. Call me a fanatic, but, I love my balsamic vinegar.
« One of the very nicest things about life
is the way we must regularly stop whatever it is we are doing
and devote our attention to eating. »
Luciano Pavarotti
A gift of quality Modena balsamic vinegar will be a much appreciated, highly valued gift for any cook in your circle of influence.
In fifteen minutes a home blended balsamic vinaigrette can be prepared using such ingredients as extra virgin olive oil, crushed garlic cloves, balsamic vinegar, white wine vinegar, thyme leaves, chopped fresh basil, finely chopped chives, chopped tarragon, and chopped oregano. A food processor can be used to blend ingredients and the finished mixture should be allowed to fully saturate overnight. In concert, these ingredients will awaken taste buds that thought there was little left to discover in taste.
Le Vinaigre Balsamique :
Derrière l'appellation « aceto balsamico » il existe deux produits distincts : « l'aceto balsamico di Modena » qu'on utilise comme vinaigre et « l'aceto balsamico tradizionale di Modena » qui est un condiment, il ne se dilue pas, on l'utilise goutte à goutte, il est plus cher mais de meilleure qualité. Ces deux produits proviennent du moût du raisin des cépages Trebbiano qu'on cuit dans des chaudrons. Mais, le vinaigre passe ensuite 3 mois minimum, voire plusieurs années, en fût ; tandis que le condiment vieillit 12 ou 25 ans et passe chaque année dans un tonneau plus petit. Aujourd'hui, on trouve le vinaigre dans tous les supermarchés. On peut acheter le condiment dans les épiceries fines et les traiteurs italiens. Ces vinaigres correspondent à un territoire (Modène, en Emilie-Romagne) et une production (DOC en italien pour « denominazione di origine controllata »). A Modène, il y a un micro-climat qui permet la fabrication de ce vinaigre
(amplitude thermique importante, hivers froids et humides ; étés très chauds).
BARBARESCO WINE...
Barbaresco is a powerful Italian wine made with the Nebbiolo grape.
DOCG regulations stipulate that Barbarescos wines must be aged for a minimum of 2 years (at least 1 year in oak) prior to release and aged for at least 4 years to be considered a riserva. The wines must have a minimum 12.5% alcohol level though most wines are closer to 13.5%. Well made examples of Barbarescos are expected to be aged at least 5-10 years after vintage before they are enjoyed, as they are extremely tannic and tight in their youth, and some continue to drink well even after 20 years. The typical style of a Barbaresco has bouquets of roses or violets with flavor notes of cherry, truffles, fennel and licorice. As the wine ages, it can develop smoky notes and more earthy and animal flavors like leather and tar.
I personally find it to be a fine fit with Grana Padano cheese...

La natura assegna un ruolo ad ogni suo elemento.
Il sole riscalda, il prato fiorisce,
gli usignoli cinguettano le loro melodie.
Il destino ci riserva la stessa sorte,
non mi ostinerò più a giocare ruoli che
hanno tolto gli anni più belli alla mia vita.
Inseguendo un finto bagliore mi sono ritrovato ...
... Rinchiuso nel nulla!