Prosciutto and Asparagus Scrolls
Prosciutto from Parma, is typically served with rye or whole-grain breads and sweet farmhouse butter at the start of a meal. These savory bundles are a fun finger food, ideal for cocktail parties. If you like, try topping the bundles with Mozzarella and warm them in the oven for 10 minutes, then serve as an appetizer instead, as in the photo here.
12 thin asparagus spears, woody ends trimmed
1 teaspoon salt
6 thin slices Prosciutto, halved
Bring 1 quart of water to a boil. Add the asparagus and salt; cook 5 minutes, or until the asparagus is crisp-tender. Drain and place in a bowl of ice water. Drain again. (This can be done up to 1 day ahead; refrigerate until needed.)

Lay the slices of Prosciutto on a counter. Top each with an asparagus spear. Roll into bundles and arrange on a platter. Serve within 30 minutes.
PASTA...
There are as many pasta dishes in Italy as there are cooks. Bold, subtle, herb-laced, or creamy, the sauces vary from city to city and region to region. The pasta shapes too change: there are long pastas, stout pastas, tubular pastas, pastas with pronounced ridges, others with nooks and crannies... I love the endless possibilities of pasta, the way something so simple can be so satisfying...
Pasta... somehow I never tire of pasta. So many shapes, so many sauces, so many possibilities. And fresh pasta is even more enticing: there's the enjoyment of eating it, of course... but before that, there's the sensual pleasure of making it from scratch, the artistry and creativity in the kitchen that transforms a humble mass of flour into a beguiling dish worthy of the most sophisticated palates.
I Sapori della Cucina... di Campania,
a very well made Video !
Linguine with Shrimp and Arugula
This first course is a delicate mingling of thin ribbons of pasta tossed with rock shrimp, lemon zest, and a handful of baby arugula; no need for any tomatoes here to mask the subtle flavors of this seafood sauce.
1 package linguine
2 tablespoons plus 1/2 teaspoon salt
¼ cup extra-virgin olive oil
2 garlic cloves, minced
½ pound medium shrimp, shelled and deveined
1/8 teaspoon freshly ground black pepper
½ cup 35 % heavy cream
½ cup freshly grated Parmigiano Reggiano
Grated zest of 1 lemon
2 packed cups baby arugula
Bring 4 quarts of water to a boil. Add the linguine and 2 tablespoons of the salt and cook until al dente, about 8 minutes.

Drain, reserving ½ cup of the pasta cooking water.

Heat 2 tablespoons of the olive oil in a 12-inch skillet. Add the garlic and cook 30 seconds over medium-high heat.

Add the shrimp and cook until the shrimp turns pink and opaque, about 2 minutes. Season with the remaining ½ teaspoon of salt and the pepper, pour in the cream, and cook 1 minute to reduce the cream to a coating consistency.

Stir the linguine into the sauce and sauté for 1 minute, diluting with some of the reserved pasta cooking water if needed to achieve a coating consistency. Stir in the Parmigiano, lemon zest, and arugula. Drizzle with the remaining 2 tablespoons olive oil and serve hot.
Wine Terminology
Italy is the largest producer of wine in the world, and it exports much of its wine to North America. Every Italian region produces good wine (some more than others, of course). Italian wines run the gamut from fresh, lively wines (either red, white, or rosé) best sipped young to deep, noble wines meant to mature in a cool cellar.
Knowing what the words
on an Italian wine label mean...
Abboccato: Slightly sweet
Amabile: Semi-sweet
Annata: Vintage year
Bianco: White
Brut: Dry sparkling wine
Classico: Wines produced in the best zone of a production area
Denominazione di Origine Controllata, or DOC: Denomination of Controlled Origin
Denominazione di Origine Controllata e Garantita, or DOCG: Denomination of Controlled and Guaranteed Origin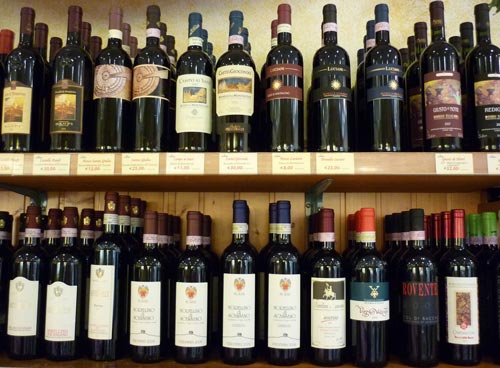 Dolce: Sweet
Fattoria: Farm or estate
Frizzante: Lightly sparkling
Identificazione Geografica Tipica, or IGT: Typical Geographic Identification
Liquoroso: High-alcohol wine, often fortified
Metodo Classico: Sparkling wines produced using the champenoise method
Novello: New wine marketed shortly after the harvest
Passito: Wine made from dried, or raisined, grapes; often, but by no means always, sweet
Produttore: Producer
Riserva: Reserve wine, aged for the duration of time specified by law
Rosato: Rosé
Rosso: Red
Secco: Dry
Spumante: Sparkling
Tenuta: Farm or estate
Vendemmia: Harvest
Vino da Tavola, or VdT: Table Wine
Peperonata !
Nunzia Casertano's Photos - Le mie ricette
Permettez-moi de vous présenter madame Nunzia, elle vit à Naples dans la belle région de Campanie en Italie. Nous sommes des amis de longue date sur Facebook...
Elle adore cuisiner !!
Poivronnade...
Ingrédients :
4 oignons coupés en tranches épaisses
6 poivrons de différentes couleurs coupés en lanières
4 gousses d'ail
2 cuillères à soupe de sucre
2 cuillères à soupe de vinaigre de vin blanc
2 cuillères à soupe de câpres
sel et poivre
huile d'olive
150 ml d'eau
Préparation :
1- Dans une grande casserole, faites fondre les oignons dans l'huile.
2- Ajoutez les poivrons et l'eau, et laissez mijoter 10 minutes environ, en remuant de temps en temps jusqu'à ce que les poivrons soient tendres.
3- Incorporez l'ail, le sucre, les câpres, le vinaigre de vin blanc. Salez et poivrez.

4- Portez à ébullition. Réduisez le feu et laissez mijoter 10 à 15 minutes environ.
5- Laissez tiédir. Versez dans des pots stérilisés pour une longue conservation, ou des pots propres hermétiques pour une consommation dans les jours suivant la préparation.
Pour finir... Servez à température ambiante en antipasto, sur des pâtes ou en accompagnement de viandes.
Suggestion Vin...
Barolo Villero
NOTES
DE DÉGUSTATION
:
COULEUR
:
rouge
grenat
avec des
faits saillants
de couleur orange
;
NEZ
:
très fruité
,
élégant
,
intense
;
GOUT
:
excellent corps

avec

de

la puissance

,

complet,

bien

équilibré

.
TASTING NOTES:
COLOUR:
garnet red with orange-coloured highlights;
NOSE:
very fruity, elegant, intense;
TASTE:
excellent body with power and stuffing, full, well-balanced.