"To have seen Italy without Sicily, is not to have seen Italy at all,
as Sicily is the key to everything"
- Goethe
Monteale is a city of about thirty thousand inhabitants a few miles southwest of Sicily's capital Palermo. It is best known for its Duomo (Cathedral), like so many other Sicilian churches, a product of the Norman conquest. This Cathedral was built between 1174 and 1185. According to many the Monteale Duomo is the finest example of Norman architecture in all of Sicily, and believe me there are a lot of competitors.
Would you believe that the interior of this magnificent building contains well over an acre of gold mosaics? Everywhere you look there is plenty to see, for example, the bronze doors contain over forty biblical scenes, while the north door has over forty panels of evangelists and saints.
The Sicily region of Italy, for fine Italian wine and good food...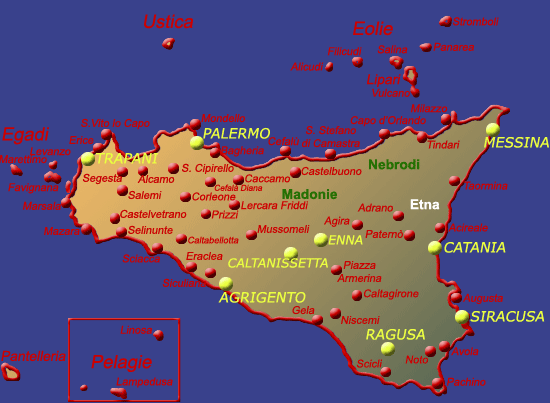 La région de la Sicile du sud de l'Italie, pour ses vins et la bonne nourriture...
Escalopes de Veau au Marsala
Use good Marsala wine for Veal Marsala...
What You Need To Know About Veal Marsala And Wine
Italian-style Veal Marsala calls for dry Marsala wine. Marsala is a Sicilian fortified wine. And please, don't use any bottles that are labeled cooking wine. As a general principle, if it's not good enough to drink it's not good enough to cook with.
Ingrédients :

15 g de cèpes séchés
4 escalopes de veau minces ou 8, très minces (max: 250 gr/pers.)
1 cuil à soupe de farine
50 g de beurre
1 fil d'huile d'olive extra vierge
sel, poivre
2 cuil à soupe de jus de citron
1 gousse d'ail
1 bouquet de persil
4 cuil à soupe de marsala
Préparation :

Mettre les cèpes séchés dans un récipient, recouvrez-les d'eau tiède et laissez-les se réhydrater 30 min. Pendant ce temps, battez les escalopes de veau pour les attendrir, puis farinez-les légèrement.

Chauffer le beurre et l'huile dans une poêle. Lorsque mousseux, faites-y dorer les escalopes à feu moyen 1 à 2 mn de chaque côté. Salez, poivrez abondamment et ajoutez 1 cuil à soupe de jus de citron.
Sortez les escalopes et maintenez-les au chaud dans le four. Pressez les cèpes pour les essorer, coupez-les en petits morceaux. Pelez la gousse d'ail, hachez-la et écrasez-la à la fourchette.

Passez rapidement le persil sous l'eau fraîche et égouttez-le. Eliminez les tiges, ciselez les feuilles. Déglacez le fond de poêle au marsala, ajoutez les cèpes, l'ail et 2 cuil à soupe d'eau de trempage des cèpes.

Versez le reste de jus de citron dans la poêle et laisser réduire quelques minutes. Dressez les escalopes sur un plat chauffé, nappez-les avec la sauce. Parsemez de persil ciselé et servez.
Regaleali - Nero d'Avola 2006
Deep ruby

red

​​in the glass

rich and

spicy

,

almost

animal-like

aromas

in

the

nose

:

blackberry,

black

cherry

,

sour

cherry

,

mulberry

,

juniper

.

There are also

hints of

vanilla

, cinnamon

,

sage

, mint

and

tobacco

.

Strong

and

firm

,

well-integrated

ripe

and soft

tannins

with

a long finish

.
Rouge rubis
dans le
verre
riche,
profond
et
épicé
,
arômes
presque animal
dans le
nez : de m
ûre, de
cerise
noire
,
de griotte
,
et
de genièvre.
Il y a aussi des
notes de
vanille
,
de
cannelle
,
de
sauge
,
de
menthe
et
d
e tabac
.
Solide et stable
,
bien
intégré
avec des
tanins mûrs
et doux
avec
une
longue finale
.
...
tantissimi sorrisi .. tantissimi abbracci
♥♥
Dolce Notte e Dolci Sogni
♥♥
Anima mia,
chiudi gli occhi
piano piano
e come s'affonda nell'acqua
immergiti nel sonno
nuda e vestita di bianco
il più bello dei sogni ti accoglierà.


Anima mia
chiudi gli occhi
piano piano
abbandonati come nell'arco delle mie braccia
nel tuo sonno non dimenticarmi
chiudi gli occhi piano piano
i tuoi occhi marroni
dove brucia una fiamma verde anima mia.

[ Nazim Hikmet ]

da Poesie d'Amore
.
. tantissimi baci .. tantissime carezze ..
tantissimi sorrisi .. tantissimi abbracci .. tantissimi baci .. tantissime carezze ..