E 'difficile odiare qualcuno con cui hai appena condiviso un pasto.
La comunità del Signore si trova principalmente intorno al tavolo.
Vittorio Gassman
È del tutto naturale che dovunque gli italiani si sono insediati orgogliosamente hanno condiviso le loro tradizioni culinarie, ricchi di persone che li circondano, sfruttando al meglio degli ingredienti locali e ottenendo ispirazione dalle tecniche di cottura utilizzati nella loro nuova patria adottata.
It's only natural that wherever Italians have settled they've proudly shared their rich food traditions with those around them; making the most of local ingredients as well as getting inspiration from the cooking techniques used in their new adopted homelands.
Spaghetti with tomato sauce:
the simplest and most beloved of all of Italy's dishes, a symbol of her cuisine, a staple in every region. Every mamma makes it, everyone slurps it up with masterful twirls of the fork on the side of the bowl. Surely with lots of garlic, always with cheese, and definitely a spoon, for me. Nothing but tomatoes, a basil leaf or two and spaghetti cooked until al dente. You would think that that's about as easy as it gets...
While the recipe appears easy, if all the ingredients aren't just right and the techniques aren't executed perfectly, the spaghetti won't be perfect.
Using delicious tomatoes,
plum tomatoes (San Marzano)
is the only real «segreto»!
«Troviamo quindi materie prime
della mia Italia sposate a prodotti partenopei,
una cucina tra le mie preferite indubbiamente.»
La meilleur partie de notre travail est d'être heureux de voir les clients. C'est genial quand ils ont eu une expérience mémorable et qu'ils veulent nous serrer la main. Puis, de les voir à nouveau revenir nous voir dans quelques semaines avec des amis. C'est notre façon de faire de la publicité de "bouche à oreille" !
UN REGALO A TUTTE LE DONNE...
Chiunque tu sia,
dedico a te queste rime che sembran poesia,
avrei voluto essere una montagna per esser sempre davanti ai tuoi occhi avrei voluto essere il mare per poterti abbracciare come solo lui sa fare avrei voluto essere il vento per trasportare il mio tormento perché,
ho un cuore grande che sa veramente amare ma non ti ho mai potuta incontrare.
Forse ti ho gia conosciuta allora ti ho gia amata ma tu non hai ricambiato questo grande amore perché la tua non era passione ma soltanto una grande illusione ma io sono qui da tempo,
ti aspetto batti gia forte forte nel petto,
non so se ti conosco ma io vorrei essere un magico bosco dai rami incantati dal verde splendente e come uno gnomo dal volto spaurito,
tenderti la mano e dirti ho finito.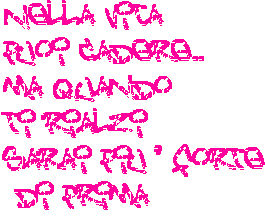 E mi manchi da morire...
Mi manchi
Fausto Leali
Mi manchi...
quando il sole da' la mano all'orizzonte,
quando il buio spegne il chiasso della gente
la stanchezza addosso che non va più via
come l'ombra di qualcosa ancora mia...
Mi manchi...
nei tuoi sguardi e in quel sorriso un po' incosciente
nelle scuse di quei tuoi probabilmente,
sei quel nodo in gola che non va più giù
e tu, e tu...
Mi manchi...mi manchi...
posso far finta di star bene, ma mi manchi
ora capisco che vuol dire
averti accanto prima di dormire
mentre cammino a piedi nudi dentro l'anima
Mi manchi
e potrei cercarmi un'altra donna ma m'ingannerei
sei il mio rimorso senza fine, il freddo delle mie mattine
quando mi guardo intorno e penso che mi manchi
ora che io posso darti un po' di più
e tu, e tu...
Mi manchi
e potrei avere un'altra donna ma m'ingannerei,
sei il mio rimorso senza fine,
il freddo delle mie mattine
quando mi guardo intorno e penso che mi manchi